Mirabai Chanu has narrated the poem 'Those who try never lose' by the great poet Shri Sohan Lal Dwivedi. She has become a living embodiment of this poem with her victory in Tokyo after the failure of the 2016 Rio Olympic Games.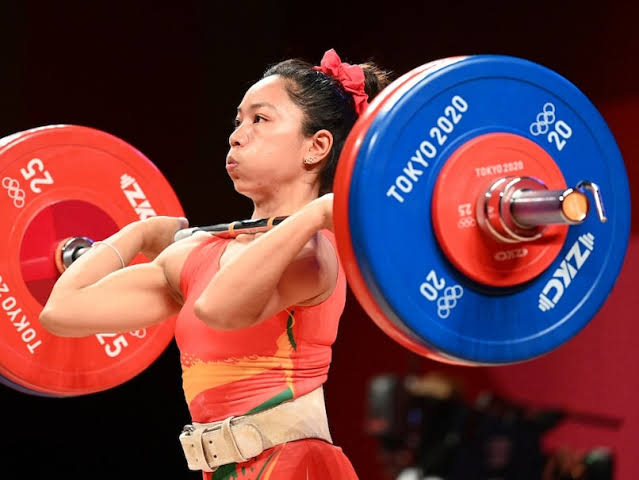 On Saturday 24 July, the Indian weightlifter was competing in the 49 kg weightlifting category at the Tokyo Olympic Games. Mirabai was behind Hou Zhihui of China. The world was watching his lift. Will she be able to pass that moment after five years of hard work? Had she done so, she would have been a medalist for India right after the 2000 Sydney Olympic Games, when weightlifter Karnam Malleswari won the bronze medal. Mirabai Chanu was also under mental pressure but she overcame it and as a result she lost the silver medal.
But earlier in the Rio Olympics, Mirabai Chanu had failed to lift any of the 48kg in her three attempts in the clean and jerk category. Then carrying the unbearable weight of this defeat on her chest, she returned to her village like a broken and defeated warrior. Defeat weakens a person, so Meera cried that day with her head on her mother's shoulder.
But how long would Mirabai stay hidden in the beautiful small village of Nongpok Kakching in Imphal, Manipur. 'When the little ant moves along a grain, it slides over the climbing walls a hundred times.' Meera gathered courage and jumped into the ground again.
When she reaches the village after her victory, Mirabai says of the time,
"My mother hugged me tightly and cried. My family got very emotional. They have felt very happy. Came back crying last time. This time I came back with a medal."
She attributes her transition between two different competitions in Rio and Tokyo to four things: her devotion to Hanuman ji, strong self-confidence, unwavering determination to keep herself at 49kg and hard work.
His strong faith in Hanuman ji makes him a devotee, a sportsman and an artist. She says "I have unwavering faith in Hanuman ji, I have pictures of him in my room, when I used to start training in weightlifting I used to go to the temple a lot. Hanuman ji protects knowledge and heart... from the very beginning. ... I love going to the temple."
When asked what was going through her mind before lifting the load, she says,
"I was thinking that I would use what I put into my training. If I gave my best performance the medal would come automatically. So, I focused on crossing the lift and passing it. And five years I was doing it anyway after all the hard work."
When asked if there was no pressure on her, she says,
"In the beginning, there was a bit of pressure that the world was watching. Still, I shrugged it off... I thought I wouldn't let five years of hard work go. I have to take the medal and keep it. In myself Thought. I went into the lift with full focus."
The largest and most accurate measure of medals won at the Olympic Games is held by an athlete. Mirabai told this writer that every sportsperson wants to win gold, but she is happy that she won silver.
Mirabai's mother, like any Indian mother, wanted her to win a gold medal (as heard in an interview for a news channel). Mirabai laughs at this. "We had a dream – that I should win a medal in the Olympic Games. The dream has come true – be it gold or bronze or silver. Silver is a big achievement for me," she adds.
In 2018, when Mirabai Chanu claimed gold in the 48kg category at the Commonwealth Games, Karnam Malleswari in her remarks mentioned something interesting, expressing immense happiness and confidence on Chanu's visit to Tokyo. He said that Mirabai competes with herself. Watched by senior players like Malleswari, it was on her to fulfill her dreams as well as the expectations of others.
Chanu was working hard for five years, out of which she did not even meet her family for about two years. So, when she reached home, she was given a warm welcome at the Imphal airport. Manipur Chief Minister Shri N. Biren Singh himself had reached there to welcome him.
Mirabai Chanu has woven her own story of hope and victory at the Tokyo Olympics. She herself is fond of storytelling, which comes to the fore in Manipuri folk arts. When asked how much thang ta (Manipuri martial art) he watched with his siblings, he replied, "A lot of thang ta. That I see more, thang ta is coming from the time of the queen-maharaja of old. That is our most famous game. Thang Ta has many more stories."
There are many stories in the story of Mirabai Chanu, who spread fragrance on the land of Manipur and North East. Weightlifting and thang-ta will expand his imagination.